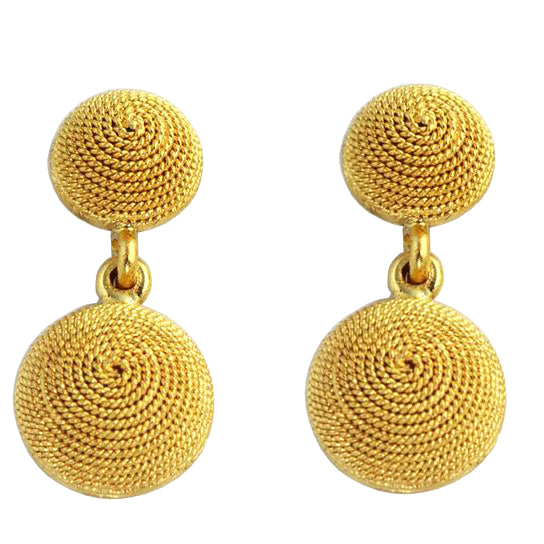 Mycenean Beehives Honey Drops Gold Earrings
The bee was an emblem of Potnia, the Minoan-Mycenaean goddess who was Queen of nature, animals, and protection.
Referred to as "The Pure Mother Bee", Potnia was a Greek goddess in the Mycenaean cult, which later the Classical Greeks separated into the now familiar goddesses of Athena, Persephone, Artemis and Demeter.
Appropriately highlighting the importance of "The Mother Bee" Goddess to the Bronze Age of Greece, the structure of the beehive is prevalent in ornament and structure of Mycenean tholos tombs, as well as motifs in ornamentation and depictions within these ancient tombs.
A precious rendition of the corbelled dome "beehive" design are two golden-drop earrings of luscious tones.  Solid 18K yellow Gold Mycenaean Beehive dangle Earrings. Museum reproductions of the ancient find in Mycenae.  
The beehive is fashioned from a finely twisted golden coil, methodically adhered atop each dome in a precise, neat spiral.  Captivating pattern and symmetry, rich with ancient culture and symbology.