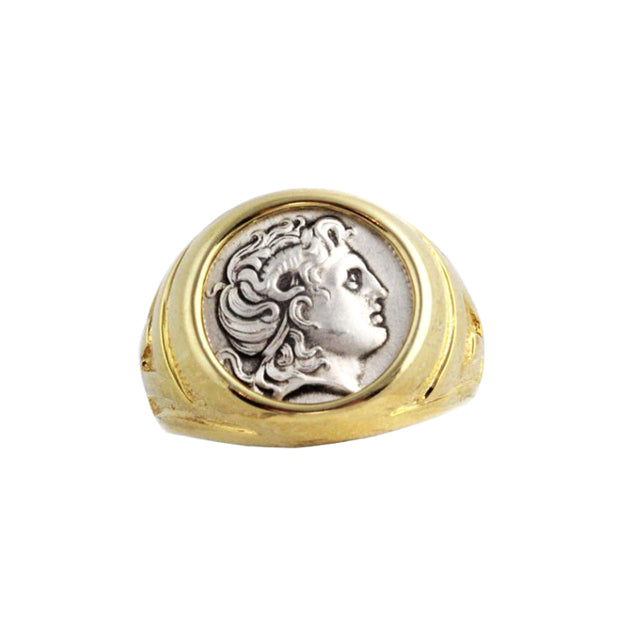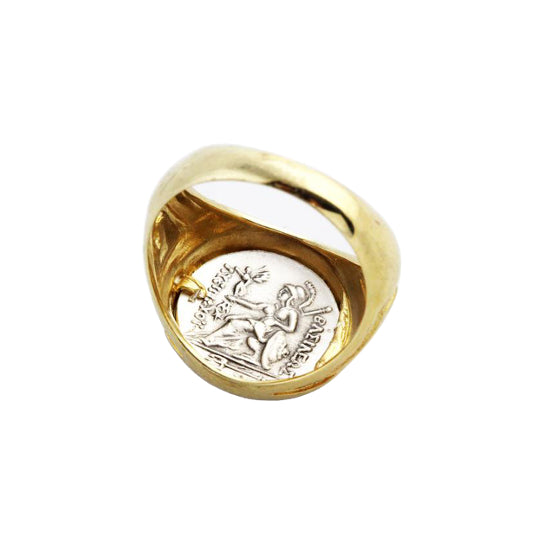 Alexandros Shield Silver & 14K Gold Ring
Handsome 14K yellow Gold Ring with a Sterling Silver museum reproduction of an Ancient Greek tetradrachm coin (four drachmas), with a very particular history. 
This is a tetradrachm coin by King Lysimachus (323-281 BC of the  Kingdom of Thrace) one of the Diadochoi of Alexander the Great.  It is a posthumous issue from the town of Lampsacus issued 297-282 BC, and depicts deified Alexander with horns of Ammun RA. 


The reverse side depicts Athena sited on a throne holding Nike, the winged victory maiden, in her hand, and resting an arm on her shield.


Lysimachus (361-281 BC.) was one of the bodyguards of Alexander who had become part of his inner circle because of his great physical strength, said to have defeated a lion.  After the death of Alexander there was a fight between Ptolemy I, Seleukos I and Lysimachos for the kingdom, which was finally divided in three.   Lysimachos became ruler of Ancient Thrace, Ancient Macedonia and portion of Asia Minor. 


Rich with symbolism and history, and adorned with the golden impression of the Meander (Greek key) on its sides.