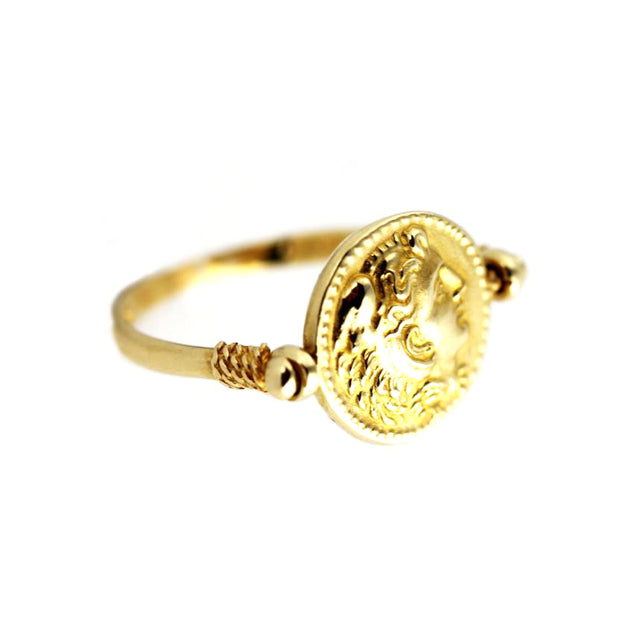 Alexander The Great Swivel Gold Ring
A solid 14K yellow Gold swivel Ring with a replica of a notable ancient Greek coin fraught with meaning.  
Issued by Alexander The Great, this coin depicts young Hρακλης (Hercules) wearing his famous lion skin.  Through this iconography, Alexander tells us of his mythological ancestry of the royal house of Ancient Macedonia and equates himself to Hercules in strength.  The reverse side of the coin depicts the weapons of Hercules (club and quivers) and the word ΔΙΟΓΕ... ΘΗΣ meaning "born of Zeus", as Hercules was born from the union of Zeus and Alkmini.  Here, Alexander is assuring us of his divine ancestry once again equating himself with the heroic Hercules. 
"EPY" (short for ΕΡΥΘΡΑΙΑ) are the letters indicating the city where this coin was first minted, on the shores of western Asia Minor (today Turkey), across from the island of Chios.

As a token of grandeur, or a call to strength, nobility or divinity, this jewel, which can be worn with either side of the coin rotated to display, carries great aspirations.
 In stock size  7.5      Please inquire about other ring sizes.