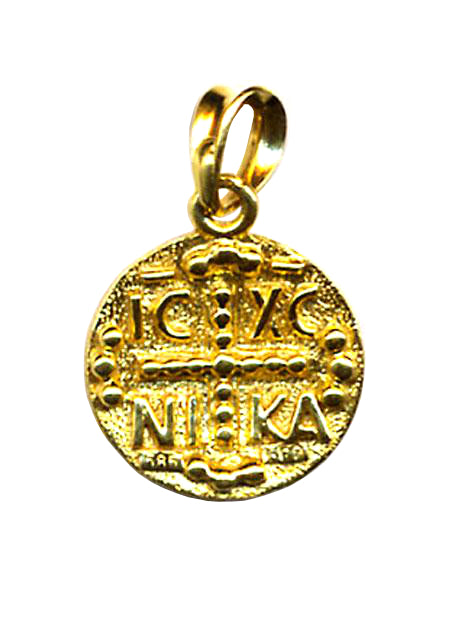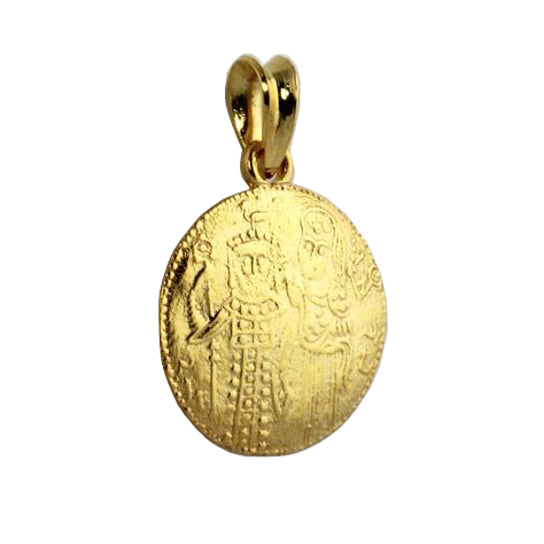 Jesus Christ Victorious Round Gold Medallion
A solid 14K yellow Gold Round concave Medallion of a Cross in relief granulation design. It depicts the Byzantine two letter acronyms in Greek of the word Jesus (upper left corner) and Christ (upper right corner) and the Greek word Victorious in the lower half ( IησουC ΧριστοC  ΝΙΚΑ).  The back view is an embossed depiction of Emperor Constantine the Great (311-337 AD) who became Saint Constantine alongside his mother Saint Helen (who discovered The Holy Cross in Jerusalem).
This is called: Konstantinato because it's design was inspired by a 24K gold coin first issued by Emperor Constantine, the first Christian Roman Emperor. For more than a 1000 years that coin was the "dollar of Europe", accepted everywhere as currency.
Please note, there are different reverse sides based on the size chosen, as shown above.
Height includes bale

Available also in 18K gold, sterling silver, rectangular, cufflinks and ring.  Please inquire.